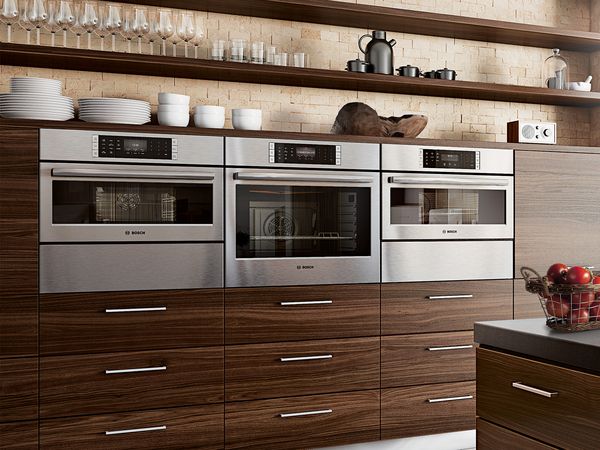 Sometimes new thinking is horizontal.
Whatever your kitchen design, Bosch wall ovens offer optimum design flexibility. Bosch wall ovens balance form and function. They integrate seamlessly into your kitchen, installing flush for a sleek European look or proud for a more traditional look. Bosch wall ovens look great installed together or separately, and can be installed horizontally for perfect design alignment next to another oven, or in a vertical stacked configuration.
Three brilliant ways to cook. One exceptional way to engineer them.
Whether you choose gas, electric or induction, sleek European design and precise cooking performance is built into every Bosch cooktop. High heat and low simmer options on burners offer optimal cooking flexibility. Our Benchmark™ gas cooktops feature a dual-stacked burner that delivers both low simmer and 20,000 BTUs. With easy-to-clean glass surfaces and grates as well as solid stainless steel frames and die-cast metal knobs, our quality German engineering really shows.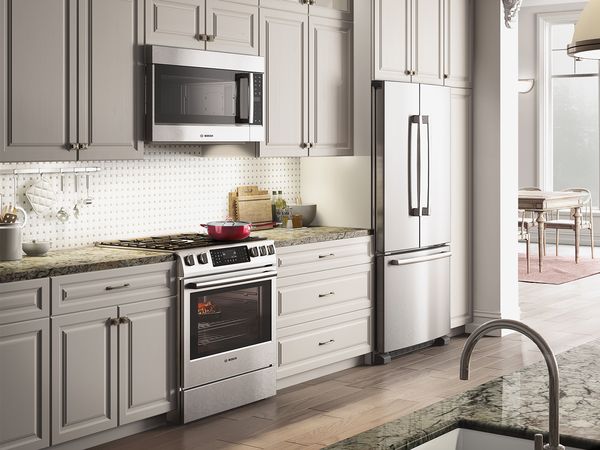 Love a sleek, built-in look but only have room for a range?
Replace your freestanding range to a slide-in range without changing cabinetry or countertops. These sleek, full-depth ranges optimize counter space, offering five burners, ovens with European convection and a convenient warming drawer. Available in gas, dual-fuel, induction and electric.
They impact designs, not space.
With more options than ever, choose from speed microwave ovens, drawer microwaves, OTRs, warming drawers and storage drawers to match the sleek design of the Bosch kitchen. Bosch Speed Microwave ovens pair the precision of convection oven cooking with the speed of microwave technology. It can be combined with a warming drawer or our new storage drawer to align horizontally with our single wall oven and is available in a combo oven. Select from 30" or 27" widths. Drawer microwave ovens open and close automatically with the push of a button, and are the perfect solution for under-counter installations.
Removes Smoke and Odor. Adds exceptional style.
Bosch's super-efficient, highly effective ventilation products complete any Bosch kitchen package. Capable of up to 600 CFM, they quickly remove steam, odors, grease and smoke without adding distracting noise. Almost all Bosch ventilation products, including downdraft models, offer the flexibility of recirculation. Bosch stainless steel hoods complete the Bosch kitchen suite with matching user interfaces and sleek European design.
Warmly recommended: Bosch warming drawers.
The Bosch warming and storage drawers were designed to work in harmony with other Bosch built-in appliances. They can be installed flush or as an overlay, either option offers you a beautiful design match to the Bosch speed oven or steam convection oven.