Isn't it time your phone did the refrigeration?
Help your groceries keep their cool.
Quickly cool perishables that have recently been purchased by activating SuperCool on your Bosch refrigerator. It automatically lowers the temperature to 32°F for up to 15 hours, helping to keep your newly purchased food fresher. To make the process even easier, Home Connect lets you activate SuperCool from anywhere*, even from the grocery store.
Give your frozen food the extra chill it needs.
When adding new food to the freezer, help it freeze faster and prevent your existing food from defrosting by activating the SuperFreeze function. With Home Connect, it's easy to activate SuperFreeze from anywhere.* Plus, your freezer will automatically return to normal after a set time, for optimum efficiency.
A refrigerator that notifies you when the door is left open.
Your Bosch connected freezer can notify you on your smartphone or tablet if the temperature increases, in case the door didn't quite close all the way.
Save more than memories when you go on vacation.
When heading out of town on vacation, save energy by setting your connected Bosch refrigerator to Holiday Mode. It's easy to do right from your smartphone or tablet, and if you use a Nest thermostat, it gets even easier. That's because Nest automatically notifies Home Connect whenever you're away from home for more than three days, so it can ask if you'd like to remotely activate Holiday Mode. Because while saving memories is great, saving energy is even better.
Discover a wide range of helpful tips for keeping food its freshest.
The Home Connect app offers useful storage tips, along with recommendations on the ideal temperature and humidity settings for many types of foods, making it easier to store your meat, produce and more in the optimal conditions for extended freshness.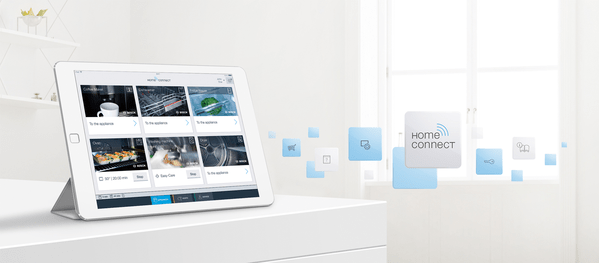 Bosch Home Connect Brochure
Home ConnectTM brings smart technology to your Bosch appliances. Download the Home ConnectTM brochure to learn more.
Home Connect is a service of the BSH Home Appliances Limited. Select Bosch appliances are equipped with Home Connect, with more appliances coming soon.
Apple and the Apple logo are trademarks of Apple Inc., registered in the U.S. and other countries. App Store is a service mark of Apple Inc.
Google Play and the Google Play logo are trademarks of Google Inc.
Disclaimer:
*Connectivity and speed varies based on network and WiFi levels.