Isn't it time your phone made your coffee?
Coffee that's ready before you are
The Home ConnectTM app lets you order coffee from anywhere in your home, using your smartphone or tablet.* So now it's easier than ever to start your mornings off right.
Your guests know exactly how they like their coffee. Now so does your coffee machine.
Take the hard work out of entertaining with a Bosch connected coffee machine. Featuring CoffeePlaylist, it lets you program customized coffee and tea beverages for all your guests. So while you're busy entertaining, it's busy preparing the perfect cup. It even notifies you once they're ready to enjoy. And for frequent visitors, you can easily store their favorite custom beverages for quicker access.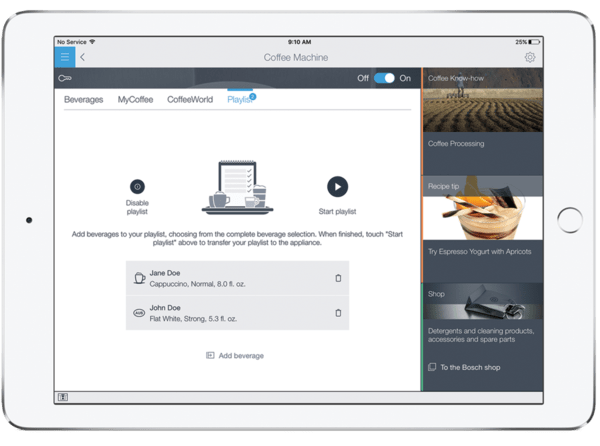 Go beyond standard coffee to create your perfect cup.
The Bosch connected coffee machine uses an intuitive interface that helps you easily craft your perfect cup of coffee, every time. Choose from a wide variety of customizable coffee and tea drinks, or take a tour around the world by trying our exclusive CoffeeWorld beverages, inspired exotic creations from around the globe.
Everything you need to become a coffee brewmaster
With Home ConnectTM, you have a wealth of coffee knowledge right at your fingertips. Just press a button, and the app will tell you everything you want to know about coffee and more, from harvesting, to roasting methods, to different bean varieties. It also gives you access to a number of great coffee recipes, so you can create unique coffee cocktails, desserts—even meals based on coffee.
Accessories that help craft the perfect cup.
There are a variety of coffee machine accessories available, such as extra bean and milk containers, descaler, and cleaning tablets, to help you create a delicious, perfect cup of coffee every time.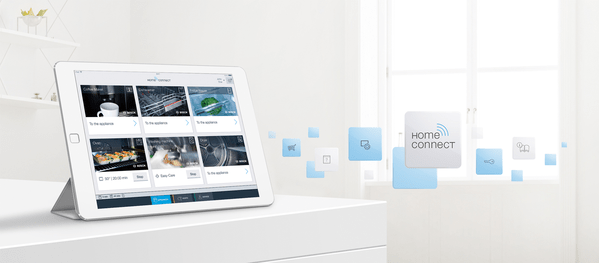 Bosch Home Connect Brochure
Home ConnectTM brings smart technology to your Bosch appliances. Download the Home ConnectTM brochure to learn more.
Home Connect is a service of the BSH Home Appliances Limited. Select Bosch appliances are equipped with Home Connect, with more appliances coming soon.
Apple and the Apple logo are trademarks of Apple Inc., registered in the U.S. and other countries. App Store is a service mark of Apple Inc.
Google Play and the Google Play logo are trademarks of Google Inc.
Disclaimer:
*Connectivity and speed varies based on network and WiFi levels.